Who is theHoneyman?
In 2010 we opened our doors as The Candyman, New Zealand's premier specialty confectionery store, which grew to have the largest range of local and imported confectionery in the Southern Hemisphere.

With our years of sweet experience we decided to create the best New Zealand Honey products in the world, and in 2019 The Candyman transformed into theHoneyman.
We are a family run business and are proud to make our products with love and care just for you.

We know that sometimes you want a little indulgence and we have made it our mission to deliver by carefully selecting varieties of honey that best showcase the 'Taste of New Zealand'.
In addition to the world famous Manuka, we also have Rewarewa, Kanuka, Pohutukawa and our Premium Blend, which we then turn into the products you know and love.
We carefully cream our honey for 72 hours in small batches to produce the smoothest and silkiest texture, which you can buy by the jar, or as snaps for extra portability.

As an accolade to our candy past we have made the best Manuka lozenges with the added benefit of vitamin c and natural flavours. 
For further celebration we decided it was time for wine, honey wine that is, and our Mead was created - turns out it's we're not the only ones who love it, and we have won 2 silver awards with it in 2021 and 2022!

Try our award winning honey products for yourself and discover what our 12 years of experience has made just for you!
Remote. Untouched. Pristine.
New Zealand is renowned for its beautiful landscapes and natural environment. 
Today, it contains more than three thousand varieties of plants which occur nowhere else in the world. 

A land full of lush vegetation, forests, natural pastures and farms account for over half of New Zealand's land area. 
Yearly when the flowers begin to bloom from the top of the North Island decending south, beekeepers gradually migrate their hives down the country to make the most of the short flowering season which varies yearly from a few weeks to a couple months.
The remoteness of some of the locations our bees forage and gather nectar produces exceptionally high quality honey with little industrialised pollution.

All varieties of honey from theHoneyman contain their own unique health benefits, as well as having exceptional taste. 

Whether used topically, taken orally, mixed with water, added to tea/coffee or used in your culinary delights - these are all great ways to enjoy the vast benefits of this unique superfood.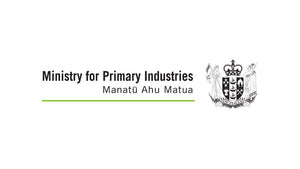 Government Registered
theHoneyman is a registered Animal Products Exporter with the Ministry for Primary Industries (MPI) in New Zealand. 

MPI are responsible for ensuring New Zealand primary industry export products (including honey) meet quality export requirements and are fit for their intended use. 

All of theHoneyman products are certified export quality.
Laboratory Certified
All of our honey is independently tested and certified by Analytica Laboratories in New Zealand to ensure quality and MGO content.

Analytica Laboratories are part of the MPI Recognised Laboratory Programme, meaning their testing of honey is used to verify the quality of honey being exported from New Zealand.