Our honey goes through a journey before meeting you
A little bit of magic goes into every one of theHoneyman' products.

When you think of the best tasting honey, there's a good chance you're remembering a taste that's smooth and soft. theHoneyman believes in delivering our customers the best of the best, so we source the highest quality honey available and then carefully process it to bring out its true tasting notes and flavors.

Read on below to learn more about our process.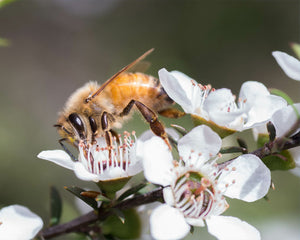 A blooming beginning
theHoneyman is one of New Zealand's leading honey companies producing handcrafted gourmet honey products, bringing you only the finest, purest honey available.
theHoneyman is committed to using sustainable local practices in our efforts to protect our environment and promote fair trade. Our mission is to connect our customers with nature through the delicious taste of New Zealand's 100% pure native honeys.

Different native flowers prefer different parts of New Zealand, and we work closely with trusted New Zealand Honey producers to bring you your favourite varieties.
Only taking what we need
Naturally sweet and sustainable, our honey is harvested by hand from beehives across New Zealand. We're passionate about honey and are dedicated to supporting beekeepers in New Zealand - 75% of beekeepers in New Zealand operate 10 hives or fewer.
Our small-batch approach ensures we only take what's needed from their hives to ensure hive health and keep our bee friends happy.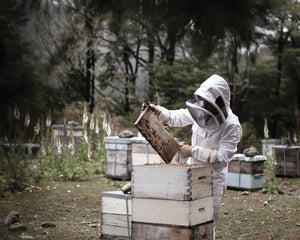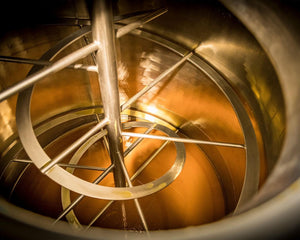 Creaming
Our creaming process is unique. After our honey is extracted and filtered through a 100 micron sized filter, our creaming process begins.
This is done in a controlled environment where the temperature and speed are carefully set, which slowly breaks down the sugar crystals over 72 hours and creates our signature silky smooth, velvet grade honey you love. Our creaming process is natural, and leaves all the beneficial healthy goodness intact inside our honey.
Regular raw honey will naturally recrystallise after 1-2 months, creamed honey stored well will naturally recrystallise after 6-7 years.
Packaged for you
After samples are sent away for independent laboratory testing to guarantee and certify the highest quality, our honey is lovingly packaged into our jars.
Only the premium, most nutrient-rich and pesticide free honeys make it through to you, and are produced in small batches to ensure quality and freshness.
Our products are lovingly made and packaged with care, from start to finish - anything less than the best is not theHoneyman - resulting in a taste sensation that will keep you coming back for more.